FRIENDS THESE DAYS WE ALL AR E FACING SOME KIND OF NEGATIVITY IN OUR DAILY LIVES , THIS NEGATIVITY EFFECTS US IN DIFFERENT WAYS LIKE MENTAL TENSIONS, TIREDNESS FOR UNEXPLAINED REASONS, LACK OF CREATIVITY IN YOUR MIND, QUARRELS IN YOUR HOME OR WORK PLACE, FEELING LIKE LACK OF CONFIDENCE ON YOUR OWN CAPABILITIES ETC.
BUT WHERE THIS NEGATIVITY COMES FROM ?? ANSWER IS OUR SURROUNDING ENVIROMENT IN WHICH WE LIVE WHICH IS STRAIGHT RELATED TO THE PLACE OR HOUSE YOU LIVE AND THE THINGS YOU USE EVERYDAY !!
NEGATIVE ENERGY MOSTLY STARTS FROM YOUR LIVING PLACE OR OFFICE , IN YOUR HOUSE IF SOME OTHER PEOPLE USED TO STAY BEFORE THEN THEIR ENERGY WILL STAY IN YOUR HOUSE UNTIL IT IS CLEARED BY PUJA OR SPACE CLEARING, OLD FURNITURES AND OLD CURTAINS ARE FEW EXAMPLES WHICH CAN HOLD OLD BAD ENERGY UP TO 20 YEARS TOO !!!! ISNT ITS AMAZING .
THESE NEGATIVITY STARS EFFECTING YOUR MIND AND BODY AND SLOWLY SLOWLY PROBLEMS ARISES LIKE HEALTH ISSUES , QUARRELS, LOSS IN BUSINESS OR PROPERTY , LOSS OF CHILDREN, UNABLE TO FOCUS ON STUDIES , BAD MARITAL RELATIONSHIP ETC,
IN SOME OF MY CASES I NOTICED THAT PEOPLE GET UNUSUAL MARKS ON THEIR BODY AND DISAPPEARS AFTER FEW HOURS,
FOR THIS EVERY ONE SHOULD MAKE THEIR HOUSE FULL OF POSITIVE ENERGY, BY FOLLOWING TIPS :
CLEAR ALL OLD CLUTTER OF PAPERS, WOOD , METALS ESPECIALY RUSTING IRON , OLD FURNITURE, KEEPING BATHROOM CLEAN , GARBAGE COVERED ,PROPER VENTILATION OF AIR IN THE HOUSE, THESE SOME TIPS WILL HELP YOU TO REDUCE NEGATIVITY FROM YOUR PLACE.
FOR MORE DETAILED SPACE CLEARING ANY QUESTIONS AND GENERATINFG POSITIVE ENERGY AT YOUR HOME AND OFFICE , YOU CAN CONTACT US FOR APPOINT MENT AT 516 524 3232
OR EMAIL AT : destinycharts@yahoo.com
WE DO OUR JOB OF SPACE CLEARING WITH HITECH EQUIPMENT AND HIGHLY ENERGIZED CRYSTALS AND HEALING STONES COMBINATIONS. THESE WORK LIKE MAGIC , YOU WILL FEEL CHANGE IN YOUR AIR OF YOUR HOUSE AND VIBRATIONS WILL BE MUCH MORE SOOTHING AND PEACE OF MIND .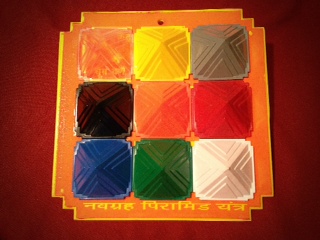 THIS PIC BELOW SHOWS THE MAGICAL WANDS , SOME HOW LIKE MOVIES YOU MIGHT HAVE SEEN IN MOVIE HARRY POTTER !! THESE WANDS ARE ACTUAL REAL FORM OF WANDS WHICH HAS HIGH ENERGY STONES WINDED WITH THE RED OAK WOOD IN A PURE COPPER MESH IN ORDER TO MAKE IT MORE EFECTIVELY WORKING IN DIFFERENT SITUATIONS , THESE ARE ALL HAND MADE SO EVERY WAND IS UNIQUE IN ITS OWN,
I USE THESE WANDS TO THROW POSITIVE BEAM OF ENERGY AND SOAK NEGATIVITY AS WELL!!
IN ANOTHER PIC YOU CAN SEE NAV GRAH PYRAMID YANTRA!! THIS IS SIMPLE YET VERY POWERFULL AND IT WONT LET ANY NEGATIVITY TO PASS THROUGH, AS MY OWN ANALYSIS WITH THIS PYRAMID YANTRA WAS THAT , I CHARGED THIS YANTRA AFTER RECIETING SOME SPELLS AND REIKI ON IT , AND WHEN I POINTED MY DOWSING RODS IN FRONT OF THIS YANTRA , IMAGINE THE RODS OPENED AND ALMOST TOUCHED ME BACK!!
YOU CAN DO IT OF YOUR OWN : YOU CAN DO A PART OF SPACE CLEARING AT YOUR HOME OF YOUR OWN. TAKE SOME INCENCE OR SAGE AND BURN IT , BURN SAGE AND LET THE SMOKE COVER YOUR HOUSE ,GO IN EVERY CORNER AND OPEN WINDOWS OF YOUR HOUSE SO WHEN NEGATIVE ENERGY TRIES TO ESCaPE, IT CAN FIND OPEN DOOR OR WINDOWS TO ESCAPE, AND THEN CLOSE ALL EXITS OF HOUSE AND LEAVE INCENCE BURNING IN HOUSE AND LIT SOME WHITE CANDLES AND ENCHANT SOME HOLY MUSIC, YOU WILL BE ABLE TO SMELL THE CHANGE IN AIR AND FEEL THE SOOTHING VIBES IN YOUR HOUSE. BUT BE CAREFULL IN CASE YOU YOU FEEL THAT YOU MAY HAVE SOME SPIRIT IN THE HOUSE THEN DONT DO IT BY YOUR OWN INSTEAD CALL AN EXORCIST .